MELVIN ROADS SQUADRON #1231

OUR LIFE MEMBERS
SQUADRON ADVISOR and
HONORARY 'MOM'
Links:

Our Squadron's Home Page



Chartered in 1977
Largest Squad in County for Many Years
Led the Organization of the Third District in 1997
Led the Formation of the Rensselaer County Committee in 2002


June 9, 2021 - Contact.


Life Members

Life Membership is awarded by the squadron to members for their dedication,
years of service and accomplishments for, and in representing our squadron.
Special Cap Insignia and a Framed Certificate are presented to Life Members
and their Membership Dues are paid by our Squadron.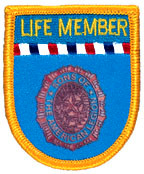 KEVIN HARRINGTON


At National Convention in San Antonio, TX,
August 24 - 26, 2001, Newly Elected
National Commander Cliff Smith, MA, (left)
presents KEVIN HARRINGTON
with his new cap after appointing him
National Historian for 2001-2002.



NATIONAL

Historian
2001-2002

Internal Affairs Committee

DETACHMENT
(NY STATE)

Adjutant
Jan. 1984 - July 1998

Commander
1983-84

Vice Commander
1980-83

Committees:
MIA-POW Chairman;
Public Relations;
Elect Fang Wong
Legion Natl Commander;
Finance;
Scholarship;
Constitution & By-Laws;
Leadership;
Advisor's Seminar;
Dues Study

---

THIRD DISTRICT

Asst. Adjutant 2017-20__
Historian 2016-20__
Vice Commander
1997-2004

AMERICAN LEGION
PRESS ASSOCIATION

NATIONAL *
PRESIDENT 2019
Vice President 2016-2018
Web Master 2017-2018
East Area Director 2018-19, 2014-16


NEW YORK STATE *
Historian 2015-20__
Life Member 2011
Secretary 2010-20__
President 2009-2010
Web Master 2008-20__
Director 2008-2009
*First Sons member ever elected

---

RENSSELAER COUNTY

Adjutant 2013-__
Commander 2011-2013
Historian 2002-20__

---

MELVIN ROADS CHAPTER
AMERICAN LEGION RIDERS

Rep. to Post BOD 2014-16
Historian 2009-20__
Web Master 2008-20__
Charter (Support) Member 2008

MELVIN ROADS SQUADRON

Life Member Award 1997

Commander 2016-__, 1979-81

Voting Rep. to Post BOD
2016-20__

Adjutant Many Years

Web Master 2001-20__
(First S.A.L. Website in NY State)

Vice Commander 1977-1979
And Many Other Years

Chaplain

Historian

Charter Member 1977

---

MELVIN ROADS POST

Web Master 2009-__

---

NY STATE
AMERICAN LEGION
HISTORIANS ASSOCIATION

Member 2006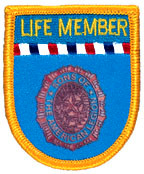 THOMAS THIBAULT

DETACHMENT (NY STATE)

Historian - 2011-2012;
1991-1992; 1987-1990

National History Contest
1st Place - 1987 & 1988

Finance Chairman - 1997-99

Vice Commander - 1990-91

Finance Committee
2009-2012; 1992-1999;

---

THIRD DISTRICT

Commander - 1999-2004

Vice Commander - 1997-99

Treasurer - 2006-2012

Tom is the only NY Detachment Historian
to win the National History Contest
and he won 2 years straight!

RENSSELAER COUNTY

Treasurer - 2004-2012

Vice Commander - 2002-2004

---

SQUADRON

Life Member Award - 2000

Commander - 1986-1988

Vice Commander - 1985-86

Treasurer - 1988-2012

For Many Years:
Scholarship Chairman
Boy's State Chairman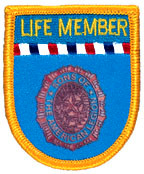 PAUL ROSSELLO

SQUADRON

Life Member
Award 2004

Commander
1988-1990

Historian

Chaplain

Sergeant At Arms

For Many Years:

Vice Commander

Membership Chairman

Adjutant


For the years Paul
was Membership Chairman,
our membership increased steadily,
our renewal rate was very high
and we were the largest squadron
in most of the area.

Whenever we have a raffle,
Paul always sells the most tickets and he continues to be our excellent Fish Fry Chef.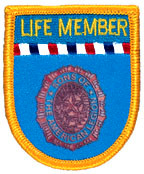 ANTHONY ROSSELLO, JR.

SQUADRON

Life Member 2015

Commander 1981-83

Vice Commander 1977-81

Charter Member 1977

DETACHMENT OF NEW YORK

Asst. Sgt. At Arms 1986-87

(Photo pending)

Tony has also supported our squadron
by marching in many annual Town Memorial Day
parades and has worked many of our Lent Fish Fries.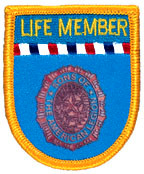 MICHAEL BIRDSALL

Life Member 2017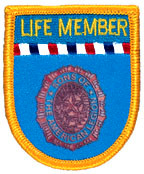 WILLIAM BAKER

Life Member 2021
More to Follow!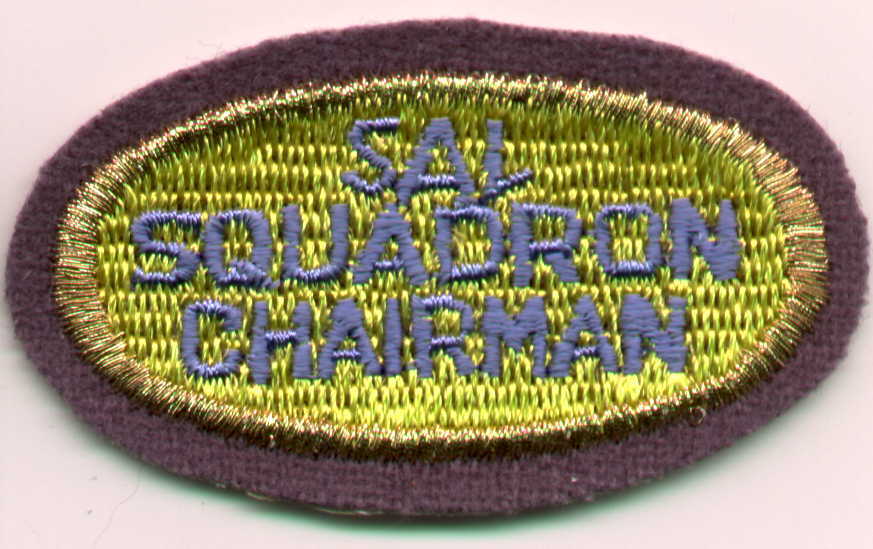 June 2002:
Honoring ERNEST HOTALING
For 25 Years as Squadron Advisor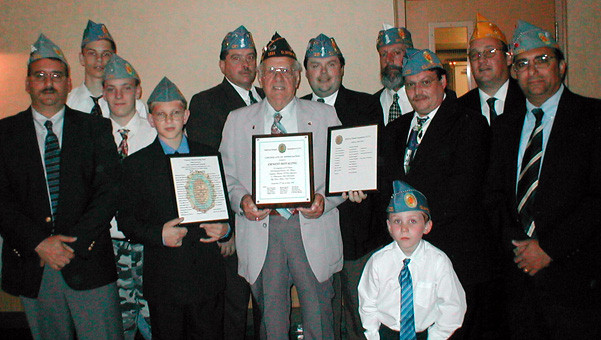 L to R: Paul Rossello, Sean Bagnardi, Scott Harrington, Kraig Brooks, Kevin De Russo,
ADVISOR ERNEST HOTALING,
Tom Thibault, Michael Birdsall, Tommy Thibault, Rich Nugent, Kevin Harrington and Tony Rossello.
Advisor Hotaling was the installing officer for the Sons,
during the annual Post, Auxiliary and Sons Installation of Officers Dinner Dance,
and he had no idea we had planned to make special presentations to him for his 25 years as squadron advisor.
After Mr. Hotaling installed our officers, he called on
Commander Michael Birdsall to make some remarks and after doing so, Mike called on
National Historian and Past Squadron Commander, Kevin Harrington for a special presentation.
Kevin spoke about how Advisor Hotaling started the squadron 25 years ago,
and his style of being advisor has been such an asset to the relationship
of the Post and Squadron and how it inspired many of the successes of our squadron.
Kevin presented Ernie with a custom copy of our Charter Membership, a List of Squadron Officers
and members who have been officers on the County, District, State and National Levels
and a Special Certificate of Appreciation.
We believe he is the longest serving advisor in the country and look forward to working with Ernie for many more years to come!!!
June 2012
Our squadron again honored our advisor, this time for 35 years!!! More to follow...



June 2003:
ANNE HARRINGTON
Named Squadron Mom
Commander Birdsall, on behalf of the Squadron made a special surprise presentation of flowers and a Certificate of Appreciation:
"In Recognition of many hours Assisting in Projects, both Large and Small
and For Attendance at Meetings, both Near and Far"

to Anne Harrington, naming her Honorary Squadron Mom.
| | |
| --- | --- |
| | |